Press
---
Norwegian BluesNews December 2016
Nina Hanssen
 
In the autumn, the Norwegian blues crowd got reunited with an old acquaintance, namely Robert "Freightrain" Parker. He played several club concerts, as well as the Dark Season Blues on Svalbard and the blues cruise on Color Line. He was joined by his Norwegian friend, guitarist Andreas Stamnes. Robert Parker was in the 90s on tour in Norway several times with Rock Bottom, playing bass in his band. "I've wanted so badly to come back to Norway, and I am so glad that I got this chance to bring my band here to play," says a satisfied Parker.  "I have always liked Norway, once I actually considered moving here. And this was the right moment to come, I'm proud of the band that I have now." 
  Robert remembers the first concert he played here with Rock Bottom, for the Oslo Bluesklubb at Smuget in Oslo. Along with Rock, Robert crisscrossed Norway, and managed to become well acquainted with the country and with Norwegians. One of those he met, was the then very young Andreas Stamnes. Robert remembers the meeting well: "We were Muddy's Pub in Spydeberg. Andreas´ mother worked there, and told me about her son, who liked to play the guitar. We met and talked a lot." It was Robert who said to Rock, "we should get Andreas over to Florida."  
"Yes, yes," said Rock. 

 "I took this literally, Robert says," and a few days later I called and he said I´m coming in January."  
"Robert took me under his wing and taught me a lot," says Andreas. 

 "Do you remember," wonders Robert, "when you were stopped at passport control at the airport? 
"I was 17, and bursting with pride over getting to play with Rock in USA. When they asked what I was doing in the US, I told them everything, something they were not entirely impressed over. But I got in eventually," grins Andreas. "I knew Rock for 3 years, and have so many memory and stories." 
Since then, they have been close friends. Andreas visited Robert in his hometown of Buffalo, New York and he was present when Robert was inducted into the Buffalo Music Hall of Fame last October. 
 "The point of this tour is not just to play with Robert and the band, it is also a kind of repayment for all he has done for me," says Andreas. "I knew the band was good enough to play here, and I think it´s probably not to be the last time they are in Norway either. They have a good groove, a good sound." 
Buffalo is located in New York State, right by Lake Erie's shores. Here Robert grew up, and this is where he lives today. 
"The city has a good music scene", says Robert. When he was young, he could easily have 12 gigs a week. Parker states in the early 1900s the city was an important place for music, everyone went there. The economy was very good and musical life flourished. Today the city is in the infamous "rust-belt" and among the poorest in the country. But the music scene is still good, says Robert. 
Roberts father was a musician. His band rehearsed in the family's basement, and the musicians used to leave their instruments down there between rehearsals. Young Robert would sneak down and tried everything he could get his hands on. 

 "The basement was called Club 48, I wrote a song about it. My Dad taught us to play, my brother played the saxophone and I played bass. My Dad told me to play bass, because there is always need for a bassist. I had a newspaper route, and saved up the $ 25 I needed and bought me a bass. I started with bass, really never took lessons, but taught myself. When I was about 15 years old I played in a band with my dad, we played at weddings and mostly private functions. After high school I went out on the road, I played everything, jazz, blues and pop." 
Eventually it was roots music he concentrated on, it was the music he loved, and since the mid-80s it is what he has been doing. It's cold up there at the Lake Erie, and one winter a friend of Robert was visiting from Florida. It was about 10 degrees below zero and when the buddy was going home, Robert decided to join him. He threw a garbage bag of clothes, his bass and amplifier into the car and headed off with $ 60 in his pocket. Arriving in Florida, he enjoyed the heat but it was not easy to get a job. The local musicians were a tight click, into which it was difficult to gain entry. Robert was good friends with Johnny Copeland, and when Johnny was playing nearby, Robert complained about the situation to Johnny. The next day he got a phone call, being offered a gig. Copeland had pulled some strings. Via friends, Robert met Rock Bottom, who was a famous person on the music scene in St. Pete. 
 "I don't know if I should tell this," begins Robert, "but ok - I had been out with some friends and we had a hearty party. Someone suggested we visit Rock where he played. They wanted me to sit in with the band, but I refused, I knew I was too drunk to do it. But I was persuaded, and it ended with me falling over an amp on the stage. Rock was not particularly impressed." I can still hear him in his booming voice. "Is this the guy you have been telling me about?"  
"But I ended up playing in the band with Rock, we stayed together for 4 -5 years. He taught me a lot, opened my eyes to the Blues so much, took me to Norway, it was a good education. I learned to play all kinds of styles and he opened many doors for me." 
Robert has also played with Sherman Robertson. He remembers well when he did audition for him. 
 "Sherman sent me his CDs, and a week later, he called me. I put on one of the CDs and played along to the music over the phone. OK, you're hired, he said. The first job was in England. He was a great talent and a great guy. He actually got a contract with the record label Alligator. He wanted to use us, his regular band on the recording but was not allowed by the company. He then cancelled his contract, he would not do it without us. He stood up for us, it made me feel good. I play a couple of his songs in my set, and also one of Rocks songs." 
Sometimes Robert muses of how his career could have been if they had had social media in the old days. In the 80s he had an audition for Billy Idol, but when it was supposed to be, he was in another city, so he missed his chance. Now, he could just have sent a video or played on Skype. 
In the early 2000s, Robert moved back to Buffalo. He has a wife and child. His son is autistic and needed a lot of help, so for a time, Robert did not play at all. 

 "He does not speak, but he has taught me so much," Robert says about his son. 
"He has helped me to become a better person, a better musician." 
Eventually, Robert got back on the city's clubs and had lots of gigs. He had no fixed band, but he booked musicians for the gigs, he was with a bunch of friends and played as "Freightrain and Friends", something he was happy with for a long time. There was always something new, it kept it fresh. 
Eventually he met the musicians that he has in his band today, and it was when Grace came with the guitar that everything clicked into place for Robert, and he had the band he wanted. 
On drums, he has a 25 year old Damone Jackson, on guitar 21 year old talent Grace Lougen and on organ the experienced Greg Leech. 
"Greg is old, like me," Robert grins. "Greg also grew up in Buffalo, and he started playing keyboards when he was just four years. He has played a lot with Lucky Peterson, who also grew up in the city. He has also been playing in the band for Bobby Blue Bland. Grace is very young, but she has an "old soul" and she plays wonderful. We played at Sportsman Tavern in Buffalo, a famous music venue. It sounded so good, and the band was so good live, so I decided that we would do a live recording there. It was a fantastic night, sold out house and a lot of friends who came by to be with us." The result was the album "Freightrain Live", which came out earlier this year.  
"We are a roots band, we play not just the blues. We play well together and have some fun while we do it. We're establishing ourselves properly now, getting management and we are going to record a new album. Grace and I write songs, she is amazing. For me it has been nice to have young people in my band, I feel rejuvenated myself. Sometimes we play with a horn section and backing singers, but we can not afford it on all gigs. I would have liked it to keep them on permanently, but who knows, maybe someday?" 
Robert Parker is a Native American of the Seneca tribe, who live in the area of Buffalo. He says that both blues and country are important music genres also for the Natives, and that there are Native American blues bands and musicians. 
"The band The Blue Nation Blues Band from Oklahoma has a song called My People Have the Right to Play the Blues, and it is true," says Robert. "I was the first Native American musician who was inducted into the Buffalo Music Hall of Fame, I'm proud. I am proud to represent my people as a musician, and I know that my people are watching what I do. There was a blues-rock band called Indigenous which consisted of Native People, they toured with B.B. King and opened shows for him, he was a big fan of them." 
Robert also uses his music to raise money for the issues he cares about. He has two regular happenings every year. One is to raise money for Christmas gifts and toys to poor Native children. The second is to celebrate his son Elijah and to raise money for families who have autistic children. Treatments are expensive in the United States, and many need financial support. The foundation is Celebrating Elijah. "It feels good to contribute," says Robert. "I'm lucky to be born with the gift that I can play, I have to use it the best way possible." 
Robert has been asked to teach music several times, but he has not done so. Not to be difficult, but he feels that music cannot be taught, one must feel it. "You can't teach feel," he says. "If you don´t have the right feeling, you will never be good." 

 "When I look ahead, I will rather tour in Europe than in the US," says Robert about the future. "In the United States it is not easy to tour, people don´t go out so much anymore. In Europe, I feel that people come out to hear us, not just to go out. My goal is to get over here 4-5 times a year, a few weeks trip at a time. I have family, I don´t want to be away from them for too long. Before, I could be on tour for six months, I did not even have a home, there was no need for it. I stayed at a hotel. I will not go back to that. I do not know what the future holds, so I'm keeping all options open. I'll keep on this band, I want them to know that being with me would give them a little taste of success. In my 40 years in the industry, this is simply the best band I've been in. I always look forward to playing with them! We set our goals and we will reach them!"
---
---
---
---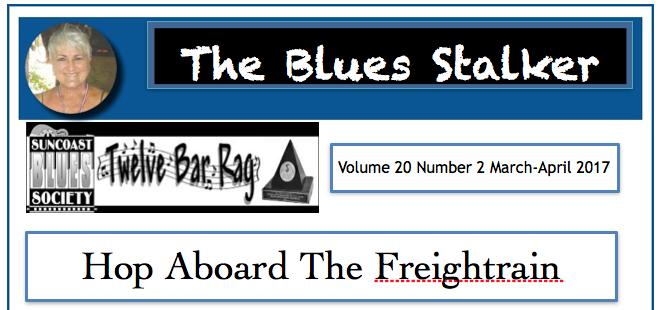 When I first began covering the Tampa Bay blues scene lending his monster bass groove to such Bay area favorites as the late Rock Bottom and the Cutaways, Jimmy Griswold, Blind Willie James, Tommy McCoy, and Sandy Atkinson. Parker migrated from his native Buffalo and recorded and toured internationally not only with Rock Bottom but also Texas bluesman Sherman Robertson and Canadian artist Paul Reddick and his Sidemen. In 2008 he decided to return home to western New York where he recently formed his own band and recorded his debut disc "Freightrain Live" at the Sportsmen's Tavern in Buffalo, New York and was released in March of 2016. Freightrain and his band which goes by the same name toured Norway in October and are currently in the studio finishing up a follow-up CD. Bay area fans who remember his unique rhythm and style will be sure to want to check out this new project out. I was excited to get the opportunity to query him about it recently. 
BS: You grew up in a musical family. Did you have any formal training?
RP: A little bit. I started on trumpet in seventh grade, I learned the basics. I didn't really like it and then went to eighth grade, junior high here in Buffalo, New York, southside, and they wanted me to play a wind instrument and I was pretty convinced that I didn't want to do that. I ended up starting on bass. My dad helped me out. I had a paper route and saved some money and bought a bass. I did learn how to read in high school to a point, it was kinda boring to me so I kinda' went around it. In school I started on the upright bass, graduated to electric bass and played in the orchestra and also the jazz band. Many nights were spent down in our basement with my dad and my brother just learning how to play music. I did take maybe one lesson from a guy locally, Jim Coleman. So, that's really it, my 'formal' training.
BS: For readers that weren't fortunate enough to be around the Bay area when you were playing with Rock Bottom and other local artists in the late 90's until you left, what was the blues music scene like then? Any insight or fond memories that you would care to share?
RP: When I first arrived, I think it was '93 or '94, it seemed like the blues scene was great. It was tough to break into the little circuit there, you know, musicians are a tight group and being the new guy was tough. I remember I went to the Ringside because Johnny Copeland was playing and Johnny was a friend of mine. I went to see him and at the end of the gig we were sitting around talking and I told him 'Hey Johnny, I can't get a gig around here' and he said 'What?'. He was kind of concerned ad he must have spread the word because the next day I get a call. That started my Tampa Bay gigging. It was actually first with Deacon Fuller and then I played around with
a bunch of guys. I ended up with Rock Bottom and that really made everything happen. As I recall, the scene was really good. We were playing every night almost and the scene back then was really great. Every night there was a place we could go and jam or have a band every night in the area. I have many fond memories of St. Pete and quite honestly, I'd love going back there. I have a lot of friends there. The Ringside was a great place. Many fond memories...there are some I could tell but would put a lot of people's credibility in jeopardy so I will just leave it at that.
BS: Your current band is exceptionally talented, have great resumes' and radiates great chemistry. Please introduce us and tell us how you got together.
RP: This band is exceptionally talented. They are amazing. This project is exciting and I'm stoked. I've been in this business a long time and this band is probably the best band that I've ever been involved with and I think it is because of the sound we have created. We created our own sound and it is exciting where this is going to take us. I moved back here in 2008 and I kinda' eased myself back into the music scene. I played with the local great Willie Haddath and we worked a lot and it was a great band. Willie had semi-retired and I took the reins over and started booking all these gigs and I would use Freightrain and Friends. I used a lot of players. I started off
with a whole different way. Freightrain evolved but it started off with local guys here. We all went to dinner and tried to start something. I had a vision of like a B.B. King or a Bobby Bland with the horns and it didn't pan out but I started going through players trying to find the right mix. I had no intention of coming up with this thing that is happening. A dream come true. One day, Damone Jackson, our drummer who is amazing---he was leaving this other band and gave me a shout. I then pulled in Greg Leech, who is our keyboard/organ player. He played with Bobby Bland and in a lot of historical places in the area. Then I had Pat Harrington with me but he ended up leaving to play with Victor Wainwright and that's when Grace (Lougen) stepped in. We were playing a benefit at the Sportsmen's Tavern here in Buffalo, and that night it was just magical and I was like whoa--what's happening here? We finished our set and I talked to the owner because I knew they had capability of doing live recording and I decided that night that this is it and we started planning and we ended up sticking together. It is amazing what we ended up accomplishing in a year. We recorded the CD in January, toured Norway, and are working on a new CD. Grace and I are writing the material. We have our own hands in on it. We are all super excited. We have a lot of interest by a lot of people. I love my band!
BS: Your debut disc "Freightrain Live" received good reviews. What took you so long to showcase your own style as a bandleader instead of a sideman?
RP: I think that I had been wanting to do a CD of my own for so many years. I kept saying I gotta' do my own CD. I guess you get caught up in making money and trying to make a living. I was a sideman all those years. It taught me a lot, the business. I think when I moved back in 2008 I started growing into my own and I just started to put it all together. I left here to go down to Florida, I played at LP's Pub the year before last. The place was really packed and I thought I should really have some product so I came back up and put a goal together and said sometime this year when I go back to Florida I want to have a CD in my hand. Unfortunately, I didn't finish it in time when I went back to L.P.'s but I did finish it, that is the main thing. It has helped me immensely. I did mostly covers-they were not popular covers, but we as a band basically make it our own. It's built up to this. I've always wanted to write with someone. I'm not a great guitar player. That was a struggle finding someone to write with and then Grace came along. That's why this new CD is gonna' be so good. We did our own stuff. We actually put a song Grace and I wrote on the first CD called Club 48 and Club 48 is actually about my basement. When I started playing we called it Club 48 because that was the address of the house-48.We have had so many jam sessions there. Grace and I wrote that for the first album and that was the only studio cut. Now we are looking forward to the next one. Hopefully, it will be done the end of March like the previous one. 
BS: Your band toured Norway in October. How was that experience and do you have plans for more international dates in the future?
RP: The tour was phenomenal and that is my favorite country. I have Rock to thank for taking me over there initially in '98. I have to thank my friends Andreas Stamnes and J.T.Lauritsen. When I had the idea I was gonna' record the live CD, I called over there and I said, 'I've got a new CD out, can you get me over there?' And they did. I think we had 12 dates. We were on the Color Line Cruise. We played in Oslo, Notodden, and the great, beautiful Dark Season Blues Festival on Svalbard, a little island way north and the experience for us and the whole band was just incredible. I think we made a great impact. Everywhere we went and every show we did we had
people telling us that we were the best band they ever heard, That's how good this band is. They featured me in Norwegian Blues Magazine and we have every intent of going back. It's already under discussion. We just have to nail down some dates for some festivals that will have us. We're excited to go back. I think we opened some doors overseas in other countries. Contacts are being made and we are hoping to get back as soon as we can.
BS: I was excited to hear that you are working on a new recording featuring original material to be released in the spring. The track "Outside Ourselves" has been already released and warmly received. This current project's proceeds will benefit returning veterans in the WNY area in need of housing assistance. Can you tell us more about this project and how did you get involved in this outreach to help homeless veterans?
RP: This project came about from a local gentleman. His name is Bob James and also Tim McNulty. I came up with an idea to try to help out area western NY vets. We had met with the Western NY Veteran Housing Coalition. They determined that we could help out some veterans that are more or lesspushed to the wayside and end up homeless. We put this together-or they did. We ended up going into a local studio and Grace and I wrote the song "Outside Ourselves" and she did a wonderful job with the lyrics. They are very, very powerful. We ended up doing a show. In fact, we are still involved with it. I am meeting with the mayor tomorrow and presenting him with a check and we have also been asked to do another show this summer at a place called Larkinville. It is a big music venue in the summer, so it is going to be ongoing. It's amazing this momentum that this project has gained. We also do many benefits in the area. I do two drives; one is a Christmas toy drive. This past December was the fifth annual. I started by just bringing a box to a gig and using social media I helped local Native American kids if they need help. I think every kid should
be happy on Christmas morning. This past year we decided to do it at the Sportsmen's Tavern and charged people less at the door if they brought a toy. It was very, very successful. We made enough money where I also am starting a music scholarship with the funds from the door. We are purchasing instruments and amplifiers and we are going to identify native kids in the area to provide them with instruments and get them lessons. That is very exciting. Also in June, I started a foundation a few years back called "Celebrating Elijah", that's my son's name. Elijah was diagnosed with autism and we had started a foundation because we found out service dogs helped so we started raising money for him initially and we got him a dog. We then started helping other people get service dogs and this year I'm going to raise funds for local people and their families with autism. I see dwindling funds for respite and certain diets and healing that really helps these kids and we're gonna help some families a lot with this benefit. I found out it's amazing what we can do with the power of music. It's amazing the response of the community. I have had people all over the world sending us money for this. I'm not the kind of person to ask for money for ourselves but the response was overwhelming. Many people from Florida. It opened my eyes to this and I decided to continue it. We are constantly doing fundraisers and benefits for people, and organizations. We feel very strongly about this. We donate as much time as we
can. I'm not one to pat ourselves on the back but I think it's admirable that every time I call my band, they say yes without hesitation and that shows why I love them and why we get along so well. not just onstage but offstage as well.
BS: When you were in Norway were you able to see or playwith our friend, Vidar Busk? Do you still maintain contact?
RP: I did not get to see him or play music with him. It was crazy--it was go, go, go. I have kept in contact with him all these years since I met him. He's not the easiest guy to get a hold of but I did finally talk to him. I maintain contact and friendship and I miss him. I know the next time I definitely will hook up with him and we'll do something together.
BS: Any chance of us Florida fans getting to see your current band perform in this area? I know you still have a lot of fans here, this one right here being one of the biggest.
RP: Thank you. We wanted to get down there this year. Time just flew by. I contacted some people. I guess the hardest this is getting booked without having a booking agent to make the calls. It's extremely hard doing this a one-person show. Ultimately we'd love to get an agency or someone down there to help us but we'd love to come down. When I played down there the last couple of years, I used Jimmy Griswold who's a great friend, we had a great band together and I played on his CDs and so when I come down I play with Jimmy and Tim Heding who is a fantastic musician that I love to death. The first year we had Harlan play drums and Joe Renda the year before. The shows were great but ultimately I cannot wait to bring my band down there. We were trying to get down in April. I contacted people about certain things and it's tough. I think though with this CD, and having it in hand, I would love to come down and help with some festivals. This band is ready for the big stage. We've already done it. I miss Florida but I couldn't bring my band down for just one gig. My wife is from Florida, we met down there. We do go down to visit and I just call down and say 'hey, I want to play 'and we'd put a show together. But ultimately, we would love to do a tour of the whole state and come back to the west coast there. Look forward to it.
BS: Do you utilize social media? Give us your website info and any other ways that your Florida fans can keep up with your current status and projects and obtain your CDs.
RP: Yes, I do use social media and it is an amazing thing. I've done very well with it. I've learned that it's a very hard thing to do-you don't want to do too much or too little. Timing is everything. You can find me on Facebook at Robert 'Freightrain' Parker and also my website: www.robertfreightrainparker.com. There you can get CDs, t-shirts, coozies, stickers, posters, We are also on ITunes and also at CDbaby, the CD is called "Freightrain Live." I'm on Twitter and Instagram. I try to use them all. I have a lot of friends from Florida on Facebook. On Facebook, you can get to all of my band members pages and read up on us. We also go live on Facebook when we have gigs and Damone, our drummer, is constantly live. I pick and choose. It helps us. Damone is 26 and Grace is 22 and I told them I wondered what it would have been like if I had had
social media when I was their age. RP: I want to thank my family, my wife Sarah who has been nothing but supportive in pushing me to move forward and she totally believes in me and my talents. She has really pushed me to do this. I also want to thank my Mom and Dad and family for their support. I want to especially thank my son, Elijah. We have a song on our CD "Elijah." I had written a poem about him and what he has done for me. I decided not to put the words on it because he's non-verbal. He doesn't talk. So we're going to keep it an instrumental because it is powerful and strong. Elijah has taught me more than anyone in this whole world and he doesn't talk. He's the reason for all this. He was given to us, to help me be a better person and human being, to move forward and use the power of music to create positivity and help people. He is also a lover of music and we don't know where he's going with it. He loves drums and plays a little piano. He loves guitar and love his father's music. His Hahnih, that is how you say Dad in Seneca. That's the reason this is going forward. My wife Sarah nominated me and I was inducted into the Buffalo Music Hall of Fame. The first Native American inducted into the Buffalo Hall of Fame. It's a very high honor.
BS: My blues heart goes out to you and your charitable work helping the Native American community as well as our veterans in the western New York area. 2017 is shaping up to be an exciting, progressive year for you. Wishing you all the best on your new release and can't wait to hear it and hoping to spread the word to get on the Freightrain!
---
---